Allen Jorgenson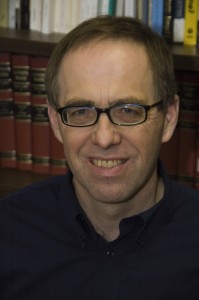 Hi all, and welcome to CTS.  I am in my last week as president of CTS, and so just finishing up the second of a three
year term.  Last year I served as president-elect and next year will be past-president.  My experience on the executive has been immeasurably rich, and my fellow executive members have been so very generous with their time, energy, and insight.  Be sure you are being well served by your executive, and know that CTS is an incredibly rich resource in Canada and beyond.
I am Assistant Dean and Associate Professor of Systematic Theology at Waterloo Lutheran Seminary in Wilfrid Laurier University (http://www.wlu.ca/seminary).  My current areas of research include Martin Luther's theology of creation and exploration of the theological insights afforded by the First Nations of North America.  I am also doing research in the area of Schleiermacher's sermons.
I pass my spare time in the summer sailing, in the winter curling, and also dabble in painting and poetry from time to time.  I blog at http://stillvoicing.wordpress.com.  I am looking forward to our time together at Brock University in St Catharines, Ontario next week.  The line-up of papers this year suggests that it will again be an insightful, provocative and satisfying conference.  I hope to see you there.