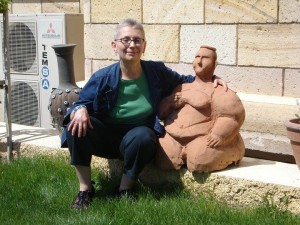 Mary Ann Beavis, Ph.D.
Hi CTS members! I am in my second year as Secretary of CTS. I'm Professor in the Department of Religion and Culture at St. Thomas More College, a Catholic liberal arts college federated with the University of Saskatchewan, which is in Saskatoon, not Regina! My areas of expertise are biblical studies, religion and popular culture, and women and religion. I also dabble in feminist theology/thealogy, which is how I became involved in the CTS. Although I work at a Catholic college, I'm officially an Anglican, and although I currently live in Saskatoon, I'm a proud Winnipegger. My extra-curricular interests include travel, looking for biblical themes in film, and being a cat-mother to top cat Willow and kitten Jett.
Although I'm not a trained theologian, I've found CTS to be a friendly, welcoming and stimulating group of scholars. They have been kind enough to accept two of my paper proposals for presentation at annual meetings, including one last year on Christian Goddess Thealogy. I was honoured to be invited to serve as Secretary of the Executive—believe it or not, they are quite a fun group. See you on Facebook!